Southern Holdings and Investments Chennai P. Ltd
Mr.V.A. Kurien was born to a middle-class Christian family in Kerala, whose ancestors as per history were High-Class Brahmins generations back. His father was a Professor of Mathematics, and he thought he could do better thereby he shifted from Madras to Kerala and became a banker.
There Mr.Kurien's childhood apart from the initial years in Madras where he went for schooling with Vidhodya School up to class 3, after which they shifted to Cochin and studied upto matriculation at SRV High School.
Finishing matriculation, he took an intermediate course at the Maharaja's College and ended up taking a degree in Commerce from the Sacred Heart's College, Thevara. After finishing the degree course, he studied for Chartered Accountancy in Madras and passed out in the year 1954.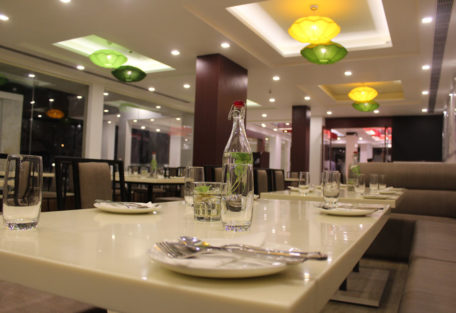 Having completed Chartered Accountancy, iin spiteof various offers he had to work abroad, he decided to take the challenge of setting up a branch of one of the oldest firm existing in Kochi, by name Varma & Varma. In the year 1954, joining them as an Assistant, he rose to the level of a Senior Partner by 1960.
Around 1959, he started a magazine called 'Business Management' at a time when the management movement had not taken its roots in India. By virtue of his association with the magazine, he was selected for US Aids Scholarship for 4 months with the Asian Productive Organisation at Tokyo. The 4 months that he had been in Tokyo, widened his understanding of business as well as inspired him to get into business in the subsequent years. He continued to be in practice till the year 1970 by which they had already established his interest in future businesses.
As far as he is concerned, most of the businesses were he got involved was never on a pre-planned basis. Coming to few of the businesses which was initiated by him for the purpose of helping some of his friends, and some of the businesses accidentally came to him, may be a gift from God.
He was explaining about the various businesses that he started. He had the knack of getting out of any of the businesses at the right time, if the business was found not feasible. Some of his initial business ventures were setting up a printing press, started solely for helping one of his friends, and similarly a chit financing company, again to help another friend. When he went into other lines of business, he sold his interest in the chit financing company.
Around 1969 and 1970, he started a Real Estate Development company called, Southern Investments, who were pioneers in constructing multi storeyed buildings, and they spread their business not only in Chennai but to Bangalore, Cochin and Trivandrum. He continued to be active in this business till about 2005, when he sold away his shares to the other partners.
Here again, in the same time he started the business of export of sea food which was started to help other friends in Cochin. He was able to take this business to much greater heights by establishing 2 – 3 ancillary companies and spread his activities with see food factories, with marketing offices in New York and Tokyo. He also went for joint ventures in Canada for processing of sea food, which was being exported from India. This again, after very successful running till about 2004, for practical reasons he sold the shares to some of the company's directors and got out of that business completely.
In recognition of his service to the Sea Food Industry, he was presented a shield by the Marine Products Export Development Authority (MPEDA) of the Govt. of India for his outstanding contribution to the growth and development of the Sea Food Export in India.
Talking about the time when he was in the sea food industry, he was mentioning about the various hardships and difficulties that he had to go through, and also of the great moments of success. Here again, he had a policy of sticking to a few selected customers rather than keep on shifting the buyers for the sake of a few dollars in excess. He was narrating one of the advantages that he had in being consistent in his business approach with the buyers. His sole buyer in Japan was one of the largest sea food companies by name Taiyo. During the course of one of his trips to Japan, he concluded a contract for supply of frozen shrimps at a particular price. But, by the time he came to India, the market had fallen very badly and the buyers would have lost a lot of money, if he exported at the contracted price. Realising the plight of the buyers, he voluntarily reduced his contracted price, which good will gesture was really appreciated by the buyers in Tokyo. A year after that, one of his consignments to USA got rejected by the food authorities, by which he had suffered a huge loss.
After his visit to USA to sort out this problem, on his way back he came via Tokyo and at one of his meetings with the buyers in Tokyo, they realized the problem that he was facing, and as a matter of re-paying for the good gesture which was showed by him, the buyers in Tokyo agreed to pay some money to settle the bank for the loss that has been suffered, which ofcourse was paid back in installments for future exports. When their Representative came to India to do purchases, he had a huge stock, but the price had fallen so badly that selling at the market price would have resulted in huge loss. There again, the buyer remembering the good gesture, asked their Representative to buy the entire stock lying with him at the cost price, without any loss to him.
He was explaining that, when you do a good thing in life or in business, you do not have to expect return, but the return will come to you in abundance for your good actions.
In a similar situation, sometime in 1985 he went to Andaman Islands to look into the possibility of buying timber for the purpose of bringing to the Main Land. Though that business was not feasible, accidentally coming out the airport, the contractor showed him a board saying land for sale just opposite the airport. His immediate reaction was, instead of why buy the property, his inquisitive mind said, lets see the property. The same evening, the owner of the land came to see him and without much discussion a price was concluded by the seller and at in impulse, may be surely with God's blessings, he concluded the price not knowing what he would do with that property.
Subsequently, an idea came to him to put up a cold store, the first of it in the Island, to keep fruits and vegetables coming in from the Main Land. Having done this, he thought why not improve upon it and he established a company for bringing in various frozen foods from Main Land to Port Blair. Today he is the biggest importer of frozen food from the Main Land, ranging over 40 – 50 products, and for the purpose of distribution, he acquired refrigerated trucks for local distribution, and refrigerated containers to carry the goods from the Main Land to Port Blair. This business was occupying only a portion of the land that was acquired, and having plotted out the back portion of the land, the front portion was lying idle. It was at this time that he thought of putting up a hotel.
Prior to this, he had converted his property in Chennai to a very successful Resort and the experience gained from this, gave him the idea of setting up a 48 rooms, Four Star category hotel at Port Blair.